Praise From Community Leaders
Testimonials & Success Stories
Knowledge Share Testimonials
BTW, i just finished my first listening of the 10 modules... WOW! With my wife, we have been studying for 15+ years sovereignty and legal and lawful remedies. Your course is the best! Clear, concise, heart felt, logical, and freedom inducing without foo-foo!!!
I won my case with the city of Cleveland after the 3rd notice! It was great!
Terrific course! Thank you Jon and Greg. This has helped solidify my understanding of law and more importantly, how to exercise it.
This course has definitely changed who i am in so many ways, i am really liking who i am becoming, i clear any controversy up very quickly, it is in my nature now to go to remedy, my reality is so much more peaceful, loving & kind. I have never been so excited about a course before it is an ongoing journey. Thank you all again, what a wonderful community to be a part of.
I completed the course and it was absolutely mind blowing. It is about finding what is "true" about yourself and the world, facing your fears/emotions and creating a better existence for yourself...it started me down a path of discovery that i cannot explain.
The lens through which I view the world, others and mySELF has changed. (...) My sense of responsibility for myself has expanded greatly. Taking responsibility to understand what I desire and every decision/choice I make has actually moved me closer to true peace — though I perceive I am marching toward some inevitable battle lines, I am energized by perceptions and actions of which I was not previously aware or capable. (...) I send much and continuing gratitude to you
united states
During the mask "mandate" i channeled something very important. A woman came in our restaurant, telling me that masks were mandated, though she admitted that a mandate was not a law. I replied, "you mean to tell me that someone can tell me to wear a mask against my will. Naw, that don't sound right." It wasn't so much what i said, but how i felt while saying it. With all my heart and soul that is reality. Just as i could never say anything to dissuade her from fiction, there was nothing she could say to dissuade me from reality. Normally, in the past i would have said something like- MAKE ME!
california, united states
Thank you for all your help love and care. I think you guys are amazing. I expect to upset the system going forward I mean the tax system of course. Ì am thankful to know the truth about the world that we all live in. I can not thank you guys and your team enough so thank you again for everything.
florida, united states
Every lesson here is an eye opener and I would feel no level of confidence whatsoever in making a court claim but I can CERTAINLY question a police officer: "am I being charged with a crime?" I can be humble and say: "you know....I'm really feeling jarred and uncomfortable in this moment with this " NOW I GET that it's happening FOR me to HELP me get RID of it so I NOW ask myself " ok.....you're really resistant here. Let go of trying to CONTROL this. Why am I so triggered?"
ohio, united states
As I worked through the 'law common to i' my fear of not being able to uphold my rights was enormous, I felt vulnerable to the physical abuse etc., in childhood and carried that on my journey. For me doing the emotional work as I traveled through your course was so important, now I have the inner confidence to take care of my rights. I have the knowledge now and all is calm however I now know how to uphold my rights if I need to. Thank you so much for giving me, me.
new south wales, australia
I thank you for the knowledge and strategies provided. I am living as a free man knowing who I am and the responsibilities that come with that knowing. It has boiled down to a very simple process for me: "Without Love where would I be right now" From that perspective, "things" occur as they are meant to occur and I take the "lessons" learned to Heart. I feel the "joy of being alive" and work to be in the moment where it "all" takes place. So far so good.
california, united states
As you say, we must learn, then move forward in our own new power, something I'm have done, and very happy doing, (...) I look forward to your additional videos to see how I can improve on what is already a fantastic empowering course
I am one of the quiet ones forging my own path and learning how to be my own sovereign self after a lifetime of people pleasing and not knowing who I really was outside of family life 🙂 Your calling has changed my life and I implore you to keep following your knowing because so many of us learn by your example to do the same
virginia, united states
Thank you for all your helping me discover who i am. It has been an integral part of my ongoing journey.
germany
I am one of the quiet ones, not engaged with the noise, but sharing my reflections and the Law of Mankind perspective with people close to me, and making decisions from a place of love and gratitude and not fear. I am also a member of Living Free, here in Australia, based on Law of Mankind. I don't find much time to be online, continually learning - I am doing though, and experiencing abundance.
sydney, australia
All in all the LFMKS (Law For Mankind Knowledge Share) for me has made me a quieter, and more humble man; for that I am very grateful.
united states
Initially I was searching for a way to avoid taxes, avoid vaccinations, avoid masks, to help my partner avoid paying child support for his first born, avoid confrontation. Looking back I wanted to be unseen. I did listen to knowledge share two times through and am halfway through the mastery archives. It is much like a puzzle. Working the frame then setting the inner pieces as I find them. The Knowledge Share changed my perception. The Mastery Archives have helped me implement that change. I now work in the private and have no need for compulsory "child wellness visits", found words to articulate my law and am fearless about being seen. I have drafted a few correspondences and notices but have yet to send any as it has not been needed. Living my law has been sufficient. I am mostly a mommy in exchange for my time. However, for my part time work a monetary value of what I've saved is approximately $10,000 in a one year span. I love this.
Thank you for being here, and for The Sovereign's Way. i am 61 years of age and receive your knowledge share as the dot-joining answer to youthful questions asked from a state of bewildered confusion as a girl. - From my heart i thank you. What a gift. What a gift.
germany
I have been enjoying my freedom without fear.  The course has given me more confidence to be the man I want to be and the man I am today.  Keep spreading the love and knowledge
united states
Beautifully said and soul fully empowering! Thank you for always encouraging emotional maturity true sovereignty Greg, This is what attracted me to the course initially. Deep Gratitude
canada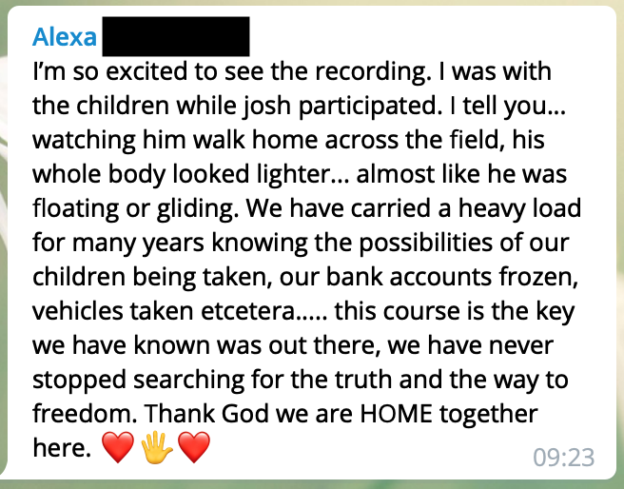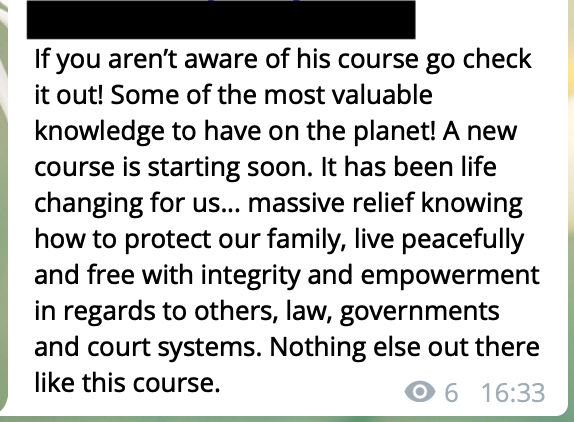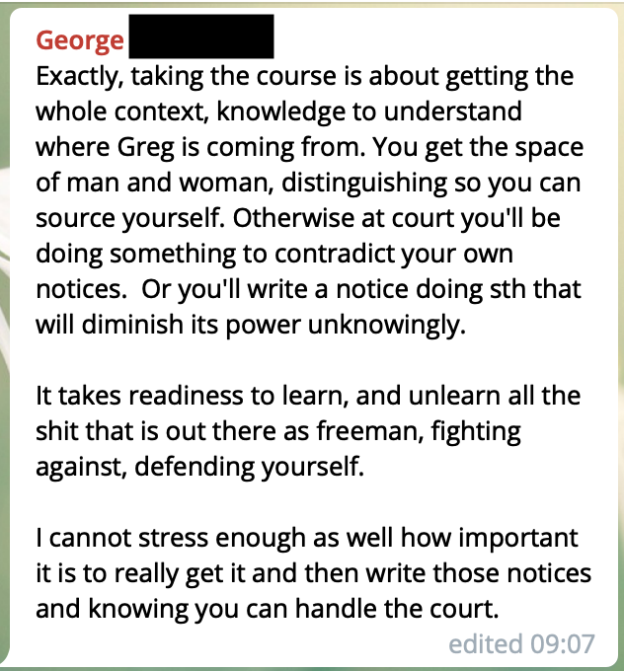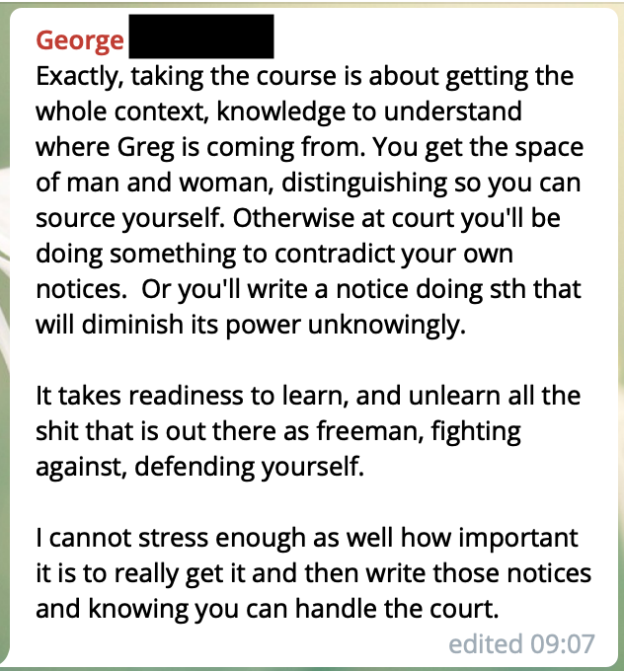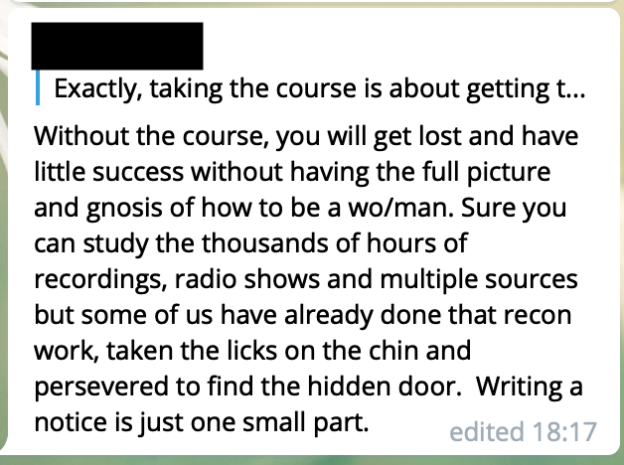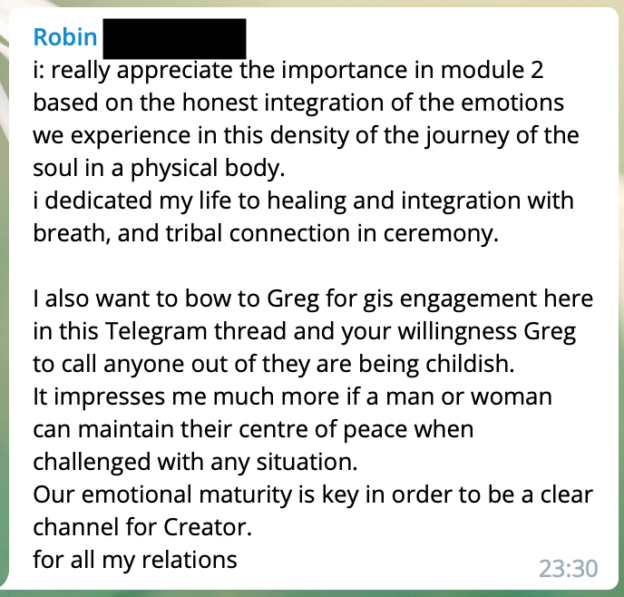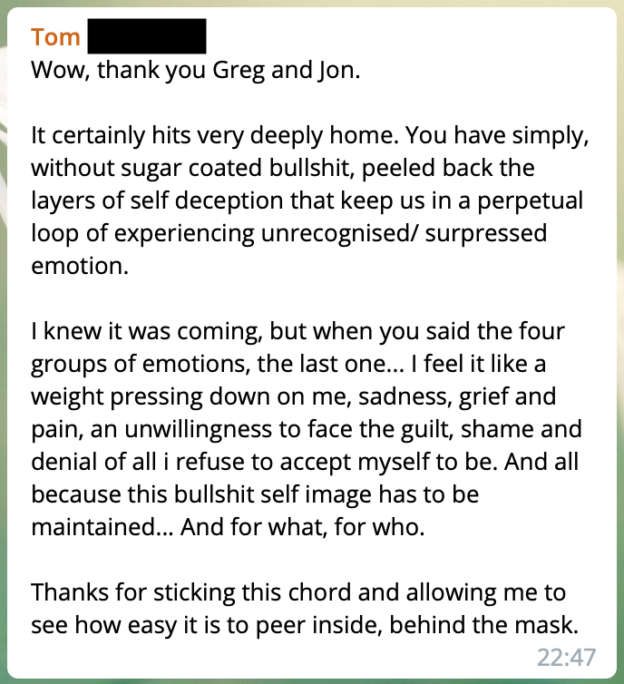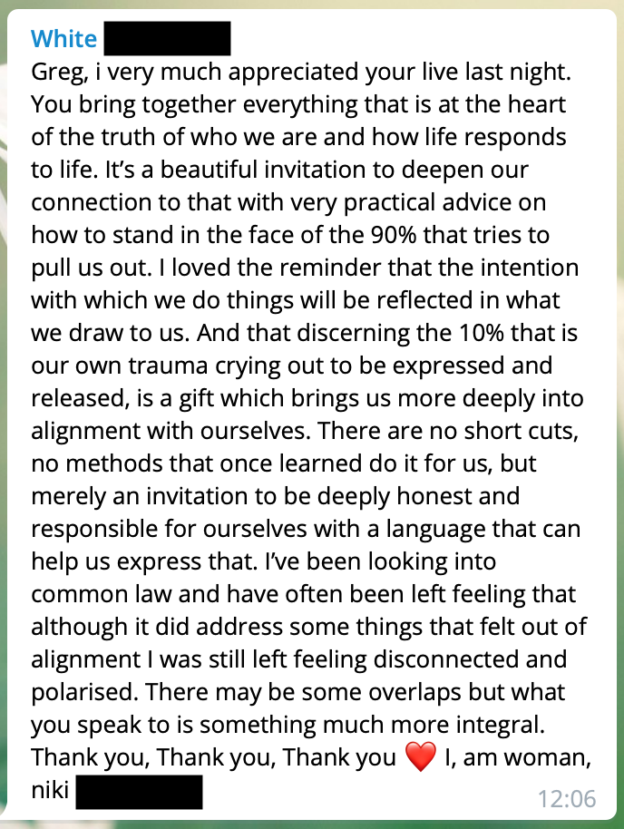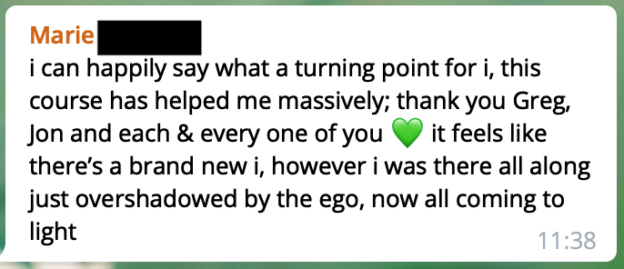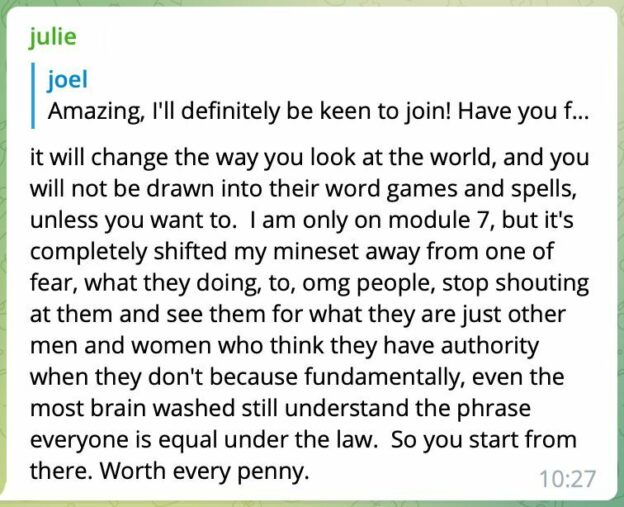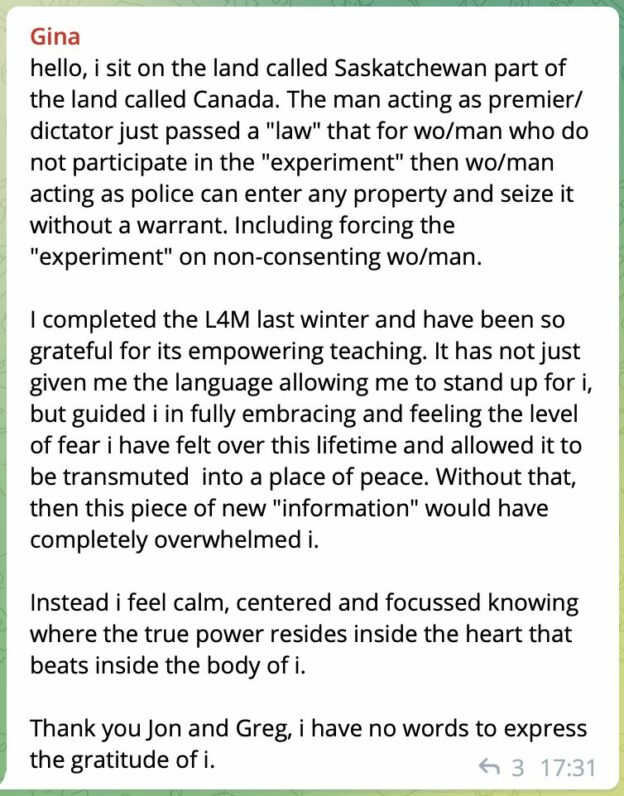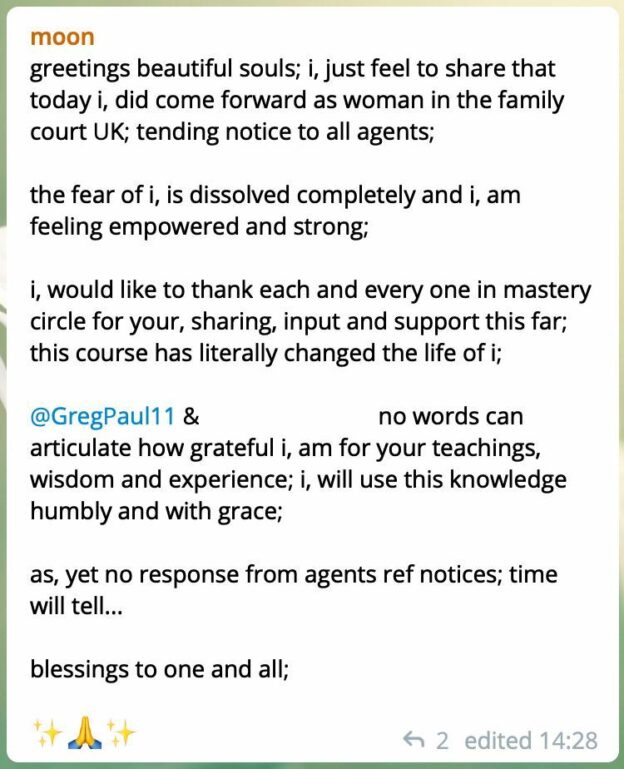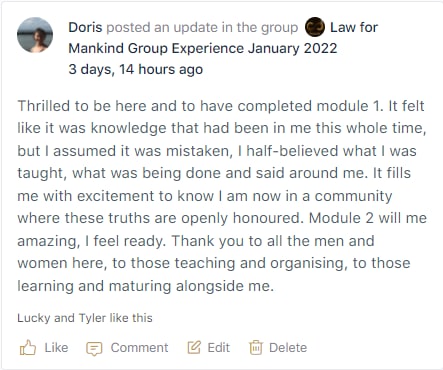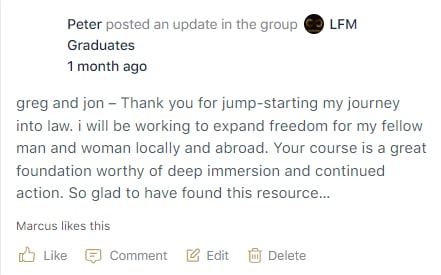 Greetings dear soul Greg, Wow-—I've only finished module 1. Eagerly awaiting the other modules be added to my page as i have set aside time to devour the information the next three days. I've been on the sovereignty path for about 15 months, and i finally believe i found what I've been waiting for all along. As an accomplished educator, i appreciate the simplicity of the framework (reality vs. fiction) and the scaffolding you demonstrate to move from simple to more complex ideas. Well done.
Hi, I've just completed the first week and i feel changed already. This course could not have come along at a better time!
Hi Greg, for me, the final pieces on this journey are falling into place beautifully... Thanks to you and John for being way showers and and for sharing.
'Thank you very much. I am a slow learner, still repeating module 1. But i will keep up at any moment. This is really cool, and is changing my way of thinking through knowledge. When i was younger i was attracted to law, but did not study law because i did not see it as the best tool for justice, so i studied something else and became a journalist/writer/artist. always trying to communicate. Your course has given me a whole different perspective on how language has been used to organize a community and how we can actually improve our communication when we understand not only language as a tool but also the intention behind the language and its consequences. And i feel this is just the beginning, All the very best to you, Christina
Enjoying it tremendously so far! Fantastic to have access to this powerful knowledge that should be taught at schools.
Greg, i so appreciate your generosity in sharing your information in this first module of your course. The information is certainly eye opening and very much needed, especially now at this point in time, all over the planet!
My mind was blown wide open after learning about the real law and titles, slaving away for years and years being a part of the system. I'm going to need to rewatch multiple times so this course sinks in my brain so i can put this knowledge into everyday life. Thank you Greg and Jon for this priceless information.
A huge thank you to you and Jon for module 1, which is eye-opening.
Module 1 is already given me so much and it keeps on giving every time i listen to it.
Thank you so much, i'm enjoying all your content. It's definitely a process of unlearning indoctrinated false beliefs designed to entrap wo/men. Blessings for the liberating sovereign way.
This course is changing the thinking process that has been drilled into the subconscious of i. Thank you for sharing your experiences so the world can wake up.
I am just 'gob smacked', at what i am learning, thank you so much.
So glad to be here. This material is so profound , its very subtle and simple and yet smashingly in your face.
Hi everyone...and thank you Greg and Jon for making this course available. i actually joined up for the course before listening to the introductory recording as i just knew i needed to. The information in module one was fabulous and I'm already making plans on transforming my life into how i know it is meant to be. It all just resonates.
I've taken courses like this before at much greater expense, sometimes spanning years (not exaggerating) and covering MANY complicated issues which are difficult to grasp and leave one feeling even more anxious than before instruction. You guys make it simple. I had so many Ah ha's even during this intro! Can't wait to get started.
Thanks heaps, love how you bring the spiritual, honour, loving way into this... it's what is missing in so much of the content out there, and exactly what makes sense to my soul.
Just wanted to quickly reach out and say thank you for this tremendous knowledge that you are sharing. I just did the foundation course and have signed onto the full course. I stumbled on this via a friend and my tiny little man mind is getting blown up at the moment. Anyways I must go and dive into the next module. Thanks again.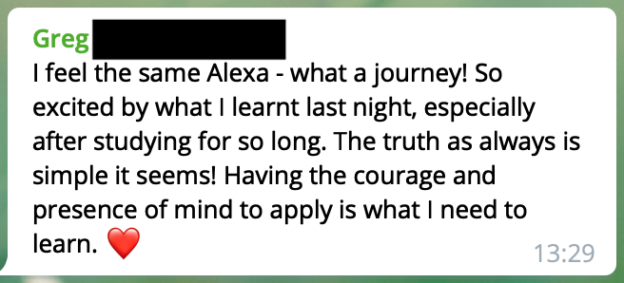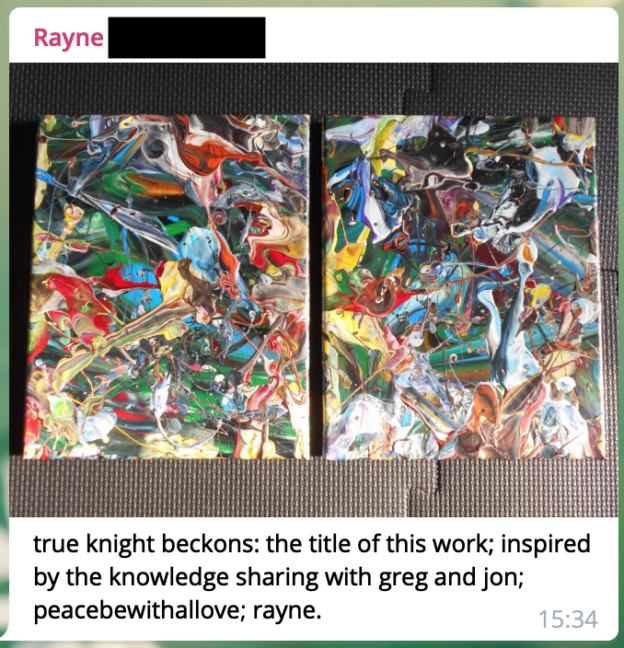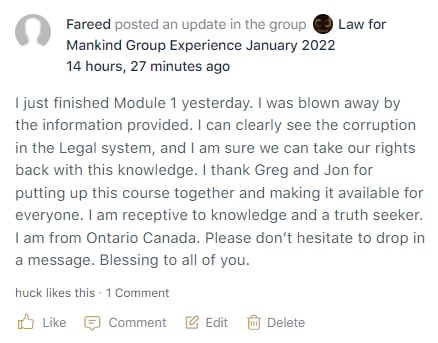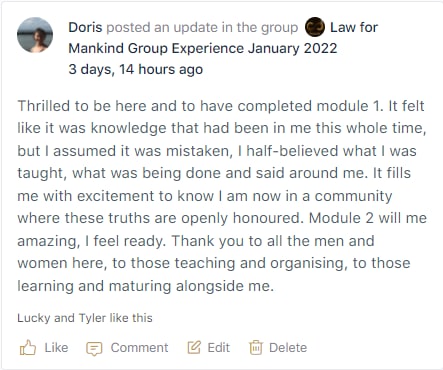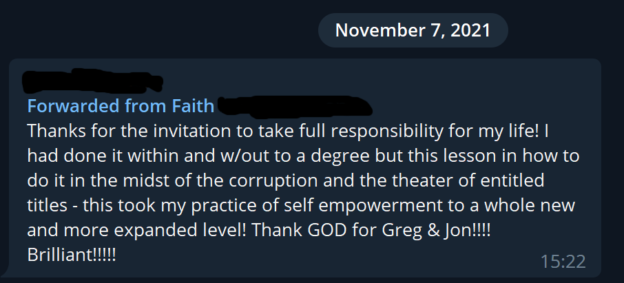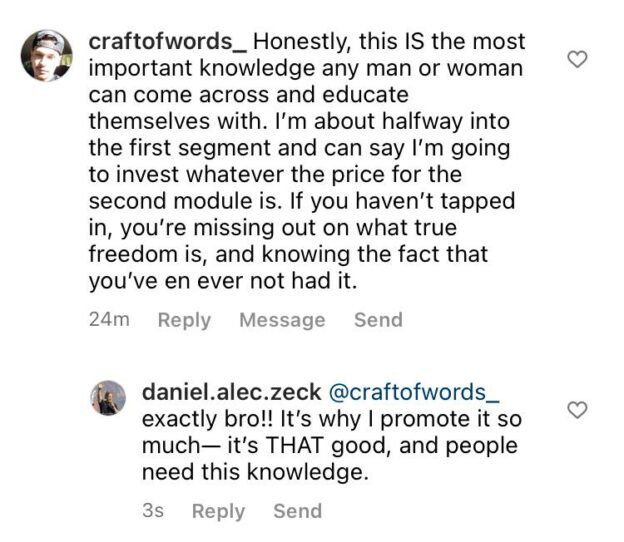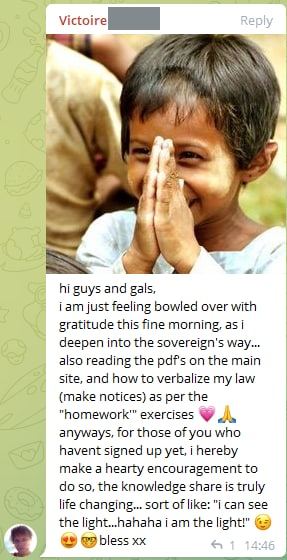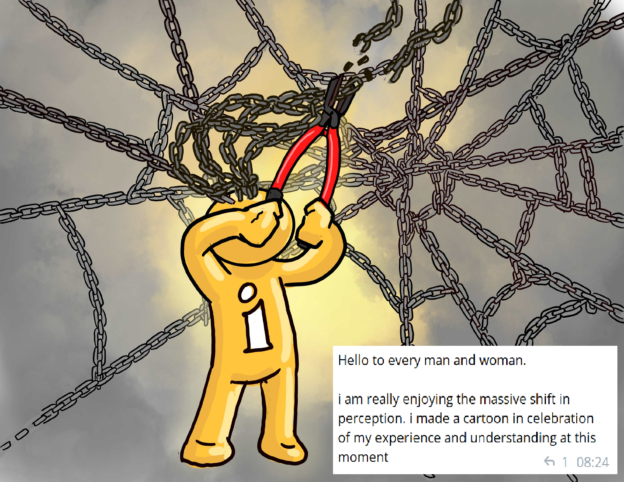 i loved every moment of it - i was ready! Thank you so much. xo
That was an awesome share last night! Can't wait for the replay. We feel you guys are Divine gifts and the synchronicity couldn't be more aptly timed.
Law for mankind helped it all click!!!! It's so simple but not  easy to get here… But to find this freedom- this sovereigness!!! Is so beautiful. Such a total game changer.   Anyway, just want to thank you for all the work you've both done — peeling away the layers…..  omg!!!!!! To get behind all these lies, rules, words, titles. Mind blowing. 
After the zoom meeting [with Greg and Jon] i decided to not wear any mask any more no matter what, and i succeeded in confronting man and woman who wanted me to wear a mask; i was already confident with the knowledge to defend my rights...
Switzerland
For years I have been interested in becoming sovereign, but nothing ever resonated with the different paperwork proposals i  have encountered. I have even seen people do it all and still end up in prison! Not inspiring at all. However, yesterday your information hit home big time. I am looking forward to embarking on this journey with both you Greg and Jon. Congratulations for sharing your passion and knowledge. The time is indeed Now!
canada
Congratulations all on a very energy-packed session. T'was invigorating! Thank you for sharing your vitality....may it become the turning of the tide.... In gratitude
It was a really great Q&A, very uplifting and seemed to clear my mind and give me a true and focused path which is a major relief as I've spent all my life "knowing" i was my own author and no one else, but not really 100% "doing" it, so I'm super keen to align my true self and start living in the real sense of the word free.
I am just 'gob smacked', at what i am learning, thank you so much.
So glad to be here. This material is so profound , its very subtle and simple and yet smashingly in your face.
I've taken courses like this before at much greater expense, sometimes spanning years (not exaggerating) and covering MANY complicated issues which are difficult to grasp and leave one feeling even more anxious than before instruction. You guys make it simple. I had so many Ah ha's even during this intro! Can't wait to get started.
Thanks heaps, love how you bring the spiritual, honour, loving way into this... it's what is missing in so much of the content out there, and exactly what makes sense to my soul.
I just wanted to say how much i enjoyed the Q&A yesterday. Most informative and enlightening. So much so that i want to do the full course.
Thank you so much Greg, Jon, Charlie, Joe, everyone in support - i am still going through the material, processing etc and will be for quite some time. Your generosity in allowing us access to all the past Q and A's - as well as the future recordings of Q and A's is greatly appreciated!
i, sincerely and wholeheartedly, thank Greg and Jon for bringing the law for mankind to the world so that i, and the many, can learn to take back responsibility for what happens in our lives; thus returning our beautiful mother earth to a paradise where all of life is honored.
I'm so excited to see the recording. I was with the children while josh participated. I tell you...watching him walk home across the field, his whole body looked lighter... almost like he was floating or gliding. We have carried a heavy load for many years knowing the possibilities of our children being taken, our bank accounts frozen, vehicles taken et cetera...this course is the key we have known was out there, we have never stopped searching for the truth and the way to freedom. Thank God we are HOME together here.
I feel the same Alexa - what a journey! So excited by what i learnt last night, especially after studying for so long. The truth as always is simple it seems! Having the courage and presence of mind to apply is what i need to learn.
If you aren't aware of his course go check it out! Some of the most valuable knowledge to have on the planet! A new course is starting soon. It has been life changing for us... massive relief knowing how to protect our family, live peacefully and free with integrity and empowerment in regards to others, law, governments and court systems. Nothing else out there like this course.
Wow everyone, this is all such valuable information! Thank you so much for the empowerment!
Tal: i, the women, had the chance to pop on a zoom that Greg was introducing his teachings, highly recommend this incredible course, halfway through, already gave me so much wisdom and transformative tools to take responsibilities and bring remedy and freedom! thank you for this opportunity and thank you for sharing it here!
Thank-you so much for the Q&A today! It was very empowering and helpful. i am so very grateful for coming across this lifechanging course. i wasn't expecting the spiritual part of it and am truly digging into who i am and what i desire for my life.